Contact
Sebastian Bartmann
info@sebastianbartmann.com
www.sebastianbartmann.com
+49 172 689 6090
Im Hag 10
70327 Stuttgart
Germany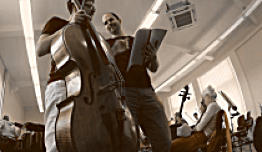 Workflow and communication
Craft meets technology
The direct and open exchange with the performers, conductors and clients is a key element of the
composer's workflow. Through the stylistically confident use of today's technology, it is possible without
any problems to create realistic midi layouts, which facilitate the efficient exchange of ideas during the
composition phase up to the finished score, so that joint work, wishes, ideas and goals can be completed
at an early stage. And disillusioning surprises about the score at the end of process can be avoided.
Film and theater
Over the edge of plate
In addition to composing for the stage, Sebastian Bartmann also writes and produces music for the media,
film, and acting. 2017 he was Grand Prize Award Winner for Filmmusic, awarded by the Oticons Faculty Los
Angeles.
For the Alte Schauspielhaus Stuttgart he composed the stage music in 7 celebrated productions, including
Effi Briest, Visit of the Old Lady and A Streetcar Named Desire. Sound installations and soundtracks for
corporate films by Mercedes Benz, Playmobil, Heineken, Fraunhofer Institute and others expand his
musical spectrum.
--> more information on music for film
References
sparkling kaleidoscope
As a very inquisitive composer, Sebastian Bartmann is resistant to commit himself to one style, and thus
unmistakable compositions are created for a wide variety of instrumentations, including the breathtaking
work Telemania, a 50-minute, dazzling kaleidoscopic composition for chamber orchestra, soloists
(Ensemble Spark) and percussion, which acclaimed premiere was at the Schwarzwald-Musik-Festival 2018.
He wrote the "symphony of perfect taste" for the Brandenburg State Orchestra Frankfurt/Oder on
commission of WMF - or for the Blenheim Singers (Oxford) the "Last
Letters - p.s. voices before and beyond", based on the death sentences of British personalities of the
History.
In addition, numerous compositions for the duo imPuls, Flügelschlag-Quartett and other ensembles which
were world premiered in New York, Miami, Bogotá, Athens, Oxford and Munich, among others.
Storytelling
arc of tension
"I never understood the separation of film music and music for the concert or even "serious
music". Even a Brahms symphony is pure storytelling for me, which is always called an absolute
and unprogrammatic work. That is of course a very subjective feeling. But this is exactly what
fascinates me, to communicate something to the listener with music, to take them on a journey
of discovery. How concrete or abstract the sounds and images are depends on the situation and
is not even so decisive, but without this subliminal narrative level and the associated tensions it
becomes extremely boring for me. That's why it appeals to me to compose both for the stage
and for a subtle background of the visual world."
Favours and idols
Favourite instrument: Orchestra
His multifaceted palette of colours is wide-ranging and his tonal favours include Gustav Mahler's
moving, heavy melodic line as well as the search for clarity and transparency in the orchestration,
inspired by Ravel and Stravinsky.
Dazzling minimalistic conciseness as in Steve Reich and an absolute reflection on sound and
perception of time as in Cage, Pärt and Brian Eno.
with own handwriting
authentic and fresh
As an imaginative storyteller, Sebastian Bartmann sees himself with his pulsating
compositions not in a current trend like the neo-classic, but also not in the waters of new
music.
Recordings session at Bauerstudios Ludwigsburg
together with recording engineer Piotr Furmanczyk
16.10. im
SWR
2
Mittagskonzert
-
TELEMANIA
um 13.05 h wird auf SWR 2 der Live-Mitschnitt der Uraufführung von Telemania
gesendet. Dabei handelt es sich um eine Auftragskomposition für die klassische Band
SPARK (Echo Klassik) und das 20. Schwarzwald Musikfestival 2018,
für Kammerorchester, Solisten und Percussion.
minimalBACH
CD - Veröffentlichung bei Challenge Records. Amsterdam.
Februar 2019
minimalBACH ist eine Komposition für 2 Klaviere (duo imPuls), basierend auf Bachs Präludien
aus dem ersten Band des Wohltemperierten Klaviers, die in den aufregenden Hörkontext der
"minimal music" gestellt werden.
22.10. im ZDF Morgenmagazin - on the dancefloor
die klassische Band SPARK spielt die kammermusikalische Technokomposition,
erschienen auf der gleichnamigen CD bei EDEL/Neue Meister 2018
missa pura
Wiederaufführung der Messe im Stuttgarter Dom am 25.11.
missa pura ist eine Auftragskomposition der Diözese Paderborn anlässlich des Kinder- und
Jugendchortages 2016
News
concerts, broadcasts, releases, more …
The

composer Sebastian Bartmann

creates new and exciting
sounds for orchestra, ensemble and soloists, which the performers
challenges in breathtaking virtuosity and captivates the audience.
"... sparkling, with depth and at the highest
musical and technical level."
WDR 3