Contact
Sebastian Bartmann
info@sebastianbartmann.com
www.sebastianbartmann.com
+49 172 689 6090
Im Hag 10
70327 Stuttgart
Germany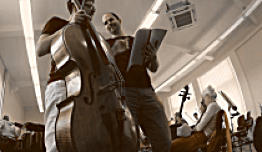 Workflow and communication
Craft meets technology
The direct and open exchange with the performers, conductors and clients is a key element of the
composer's workflow. Through the stylistically confident use of today's technology, it is possible without
any problems to create realistic midi layouts, which facilitate the efficient exchange of ideas during the
composition phase up to the finished score, so that joint work, wishes, ideas and goals can be completed
at an early stage. And disillusioning surprises about the score at the end of process can be avoided.
Film and theater
Over the edge of plate
In addition to composing for the stage, Sebastian Bartmann also writes and produces music for the media,
film, and acting. 2017 he was Grand Prize Award Winner for Filmmusic, awarded by the Oticons Faculty Los
Angeles.
For the Alte Schauspielhaus Stuttgart he composed the stage music in 7 celebrated productions, including
Effi Briest, Visit of the Old Lady and A Streetcar Named Desire. Sound installations and soundtracks for
corporate films by Mercedes Benz, Playmobil, Heineken, Fraunhofer Institute and others expand his
musical spectrum.
--> more information on music for film
References
sparkling kaleidoscope
As a very inquisitive composer, Sebastian Bartmann is resistant to commit himself to one style, and thus
unmistakable compositions are created for a wide variety of instrumentations, including the breathtaking
work Telemania, a 50-minute, dazzling kaleidoscopic composition for chamber orchestra, soloists
(Ensemble Spark) and percussion, which acclaimed premiere was at the Schwarzwald-Musik-Festival 2018.
He wrote the "symphony of perfect taste" for the Brandenburg State Orchestra Frankfurt/Oder on
commission of WMF - or for the Blenheim Singers (Oxford) the "Last
Letters - p.s. voices before and beyond", based on the death sentences of British personalities of the
History.
In addition, numerous compositions for the duo imPuls, Flügelschlag-Quartett and other ensembles which
were world premiered in New York, Miami, Bogotá, Athens, Oxford and Munich, among others.
Storytelling
arc of tension
"I never understood the separation of film music and music for the concert or even "serious
music". Even a Brahms symphony is pure storytelling for me, which is always called an absolute
and unprogrammatic work. That is of course a very subjective feeling. But this is exactly what
fascinates me, to communicate something to the listener with music, to take them on a journey
of discovery. How concrete or abstract the sounds and images are depends on the situation and
is not even so decisive, but without this subliminal narrative level and the associated tensions it
becomes extremely boring for me. That's why it appeals to me to compose both for the stage
and for a subtle background of the visual world."
Favours and idols
Favourite instrument: Orchestra
His multifaceted palette of colours is wide-ranging and his tonal favours include Gustav Mahler's
moving, heavy melodic line as well as the search for clarity and transparency in the orchestration,
inspired by Ravel and Stravinsky.
Dazzling minimalistic conciseness as in Steve Reich and an absolute reflection on sound and
perception of time as in Cage, Pärt and Brian Eno.
News
concerts, broadcasts, releases, more …
CD on the dancefloor - Berlin Classics / Neue Meister
the classical band SPARK (Echo Klassik) plays the chamber music techno composition, released
on the CD of the same name by BERLIN Classics / Neue Meister
minimalBACH CD - Release
Challenge Records. Amsterdam
minimalBACH is a composition for 2 pianos (duo imPuls), based on Bach's preludes from the
first volume of the Wohltemperiertes Klaviers, which are placed in the exciting listening
context of "minimal music".
Stuttgart, Liederhalle im Beethovensaal
zusammen mit dem SWR Symphonieorchester, Leitung: Harry Ogg
SWR Mittagskonzert mit Liveübertragung
Bach/Bartmann
minimalBACH - Suite
Uraufführung der Neufassung für 2 Klaviere und Orchester (2021)
-->
mehr Infos und Tickets
#coronation mass
World premiere with a message of peace at Katholikentag.
Sound installation meets Mozart's Coronation Mass
The composition for choir, instrumentalists and sound
installation is based on the Coronation Mass K.V. 317 by
Wolfgang Amadeus Mozart.
Cathedral cantor Lydia Schimmer is the musical director of this
sonorous project.
27.05. 20.30 Uhr Domkirche St. Eberhard, Stuttgart
more informations -->
"In my childhood I improvised a lot and I was fascinated by everything that surrounded me in
sound. Even then I was captivated by late-romantic orchestral sounds and astonishingly
harmonious phrases, which I absolutely wanted to play by ear on the piano and organ without
even being able to name them in any way. .
As a teenager I was also fascinated by electronic sounds and styles, which I reproduced with
simple equipment, because I really wanted to know how they did it!
The childlike joy of experimenting has remained, and today I foresee everything much more
clearly like a large, colourful garden in which the most diverse plants can be found.
Whether in the late romantic style for an animated film, a jazz suite about cocktails
or a techno for a chamber ensemble, I write as I like it, whereby
it's very gratifying when the audience is carried away."
with own handwriting
authentic and fresh
As an imaginative storyteller, Sebastian Bartmann sees himself with his pulsating
compositions not in a current trend like the neo-classic, but also not in the waters of new
music.
The

composer Sebastian Bartmann

creates new and exciting
sounds for orchestra, ensemble and soloists, which the performers
challenges in breathtaking virtuosity and captivates the audience.
"... sparkling, with depth and at the highest
musical and technical level."
WDR 3